On its 5th anniversary, our Unibattle will be bigger than ever – with students around the world helping their organisations compete for the 'Money Smartest Institution' title.
From the 8th until the 19th of November 2021, we invite you to take your financial knowledge and skills to the next level. The more you learn with us, the more chances you'll get to win prizes and help your university or college be crowned 'Money Smartest Institution' – it's time for Unibattle! ⚡
What is Unibattle?
Unibattle is an annual competition we run for students at all of our partner universities and colleges around the world. This year, we're celebrating the fifth anniversary of the battle!
Over the fortnight, students at our partners complete financial learning content on our platform to improve their financial literacy. Students can choose to watch any of the video learning content on offer: with over 80 financial topics covered on our platform, there's sure to be something to help you improve your financial wellbeing!
At the end of the two weeks, the institution that has had the most signups and whose students have completed the most lessons will be crowned 'Money Smartest Institution 2021! 👑
Last year, the University of Reading came out on top, winning for the third consecutive year. Will they make it four in a row, or will another institution finally topple them?
Why should I take part?
There are two main reasons every student should get involved with Unibattle. ✌
Firstly, financial wellbeing is a key part of being a student. Taking care of your finances and avoiding financial difficulty will greatly improve your student experience.
Second of all, there are loads of great prizes on offer! 😍 Every student at one of our partners who completes a financial education lesson on our platform will go into a daily (weekdays only) prize draw for the chance to win an amazing range of prizes.
PRIZES 🏆
Apple AirPods 🎧

Amazon Kindle 📚

2x year's subscription to a streaming platform of your choice (Disney+, Spotify, Netflix, you name it) 😎

Fitbit Charge 4 ⌚

ASUS Chromebook 💻

Bluetooth speaker 🔊

Instax camera 📸

Amazon Fire TV Stick 📺

Phone sanitizer 💧
Every weekday, there will also be an extra prize of £10, which can be a voucher or a donation to a charity of your choice. 💸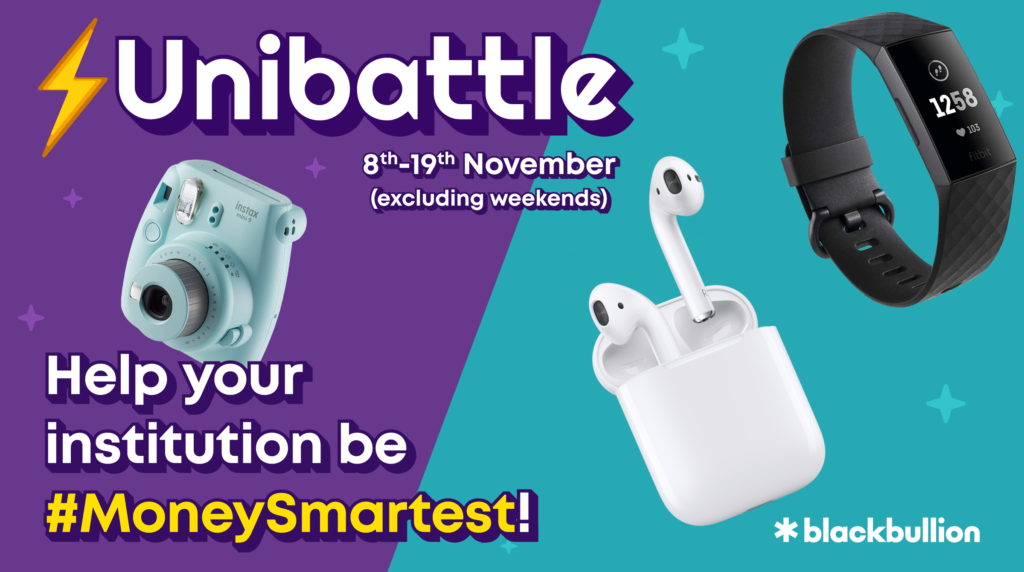 How do I take part?
It's really easy to take part in this year's Unibattle competition if your university or college is one of our partners. All you have to do is:
Go to the Blackbullion website and create an account (if you already have one, just log in as normal)

Choose some video learning content that you're interested in (the more lessons you complete, the higher your chances of winning a prize!)
And that's it! 🤷
(Of course, the more videos and lessons you complete, the more chances you'll have of winning prizes, getting your university to the top of the leaderboard and gaining those financial skills for life. We're big on those, as you've probably figured by now!)
Check if your university or college is taking part here.
How can I keep up with the latest Unibattle updates?
We'll be really active on our Instagram stories over the fortnight, with daily updates of the leaderboard and also each day's prize winners. So make sure you're following us to keep up and see if you've won one of our highly-coveted prizes! 🏅
You'll also be able to track your university's position on the live leaderboard. We're looking forward to seeing you complete loads of learning content on the platform and we can't wait to announce the winners of the awesome prizes each day! ⚡
Join the battle!